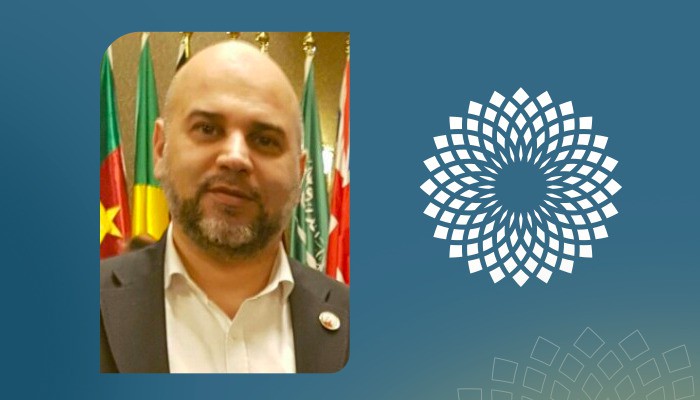 Sheikh Mehadjri Ziane: Among Purposes of Ramadan to Feed Needy
Among the daily virtual Ramadan lectures, The World Muslim Communities Council organized, on Thursday April 15th, 2021, a virtual lecture entitled "Purposes of Fasting", in which Sheikh Ziane Mehadjri, President of the European Commission for Islamic Centers in Switzerland, spoke via the Council's social media pages.
Sheikh Ziane Mehadjri explained that both prayer and fasting are physical acts of worship that a Muslim performs, while zakat it is a financial worship that a Muslim performs with his money, and the Hajj combines the two financial and physical acts of worship. He is stressing that the purpose of Ramadan is a purification of the soul, education on self-jihad, as well as Learn patience, willpower, feeling needy, and other positive values.
He emphasized that one of the purposes of fasting is not only to stop eating, drinking and sexual activities, but also to stop sins such as hurting others with words and so on, to please Allah Almighty.
Sheikh Ziane Mehadjri added that one of the purposes of fasting is that it has great health benefits. feeding the soul, victory for the soul over matter and mind over lust, knowing the blessings of Allah, saying that Ramadan is "the month of consolation and breaking the fast of needy."
It is noteworthy that the World Muslim Communities Council is an international non-governmental organization, headquartered in the UAE capital Abu Dhabi. It is considered a think tank to rationalize organizations and societies working in Muslim societies, renew their thinking and improve their performance in order to achieve one goal; The integration of Muslim societies in their countries, in a way that their members realize the perfection of citizenship and complete affiliation with the Islamic religion. The council seeks, through holding dozens of virtual conferences, seminars and activities, to localize the concepts of religious, ethnic and cultural pluralism, in a manner that preserves human dignity and respect for his beliefs, and establishes the values ​​of moderation, dialogue, tolerance and belonging to the homelands.
Related Topics