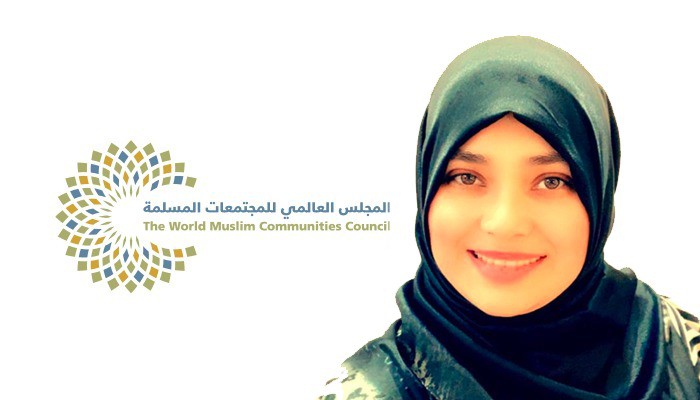 Ms. Edlira Durmishaj: Women Have Great Value and Traits in Quran.
The World Muslim Communities Council organized, on Thursday 4 March 2021, a virtual lecture entitled "Role of Women in Building Dialogue As Key to Empower Society", in which Mrs. Edlira Durmishaj, Chairman of the Board of Directors of the Peace Association in Albania, spoke via the Council's social media pages.

Edlira Durmishaj said that women are half of the society that helps the other half, with their fundamental role in the prosperity of societies. She is stressing that women have great value and attributes, high position and strong roles in the Holy Qur'an, which tells us great stories that gives important motivation for women to lead society and convey the message of Allah to humanity.
Durmishaj explained that women are the first to participate in capacity building, as they have large, multiple and essential roles in society, with their strive to make a difference and change societies for the better, starting with the family and educating children.
"Religion and morals are the cornerstones of work, and women have great contributions in these this aspect. Women are able to design and renew society with their influential leadership and the consolidation of peace."
The Chairman of the Board of Directors of the Peace Association in Albania emphasized that the identity of the Muslim is based on common foundations, dialogue, difference, and rejection of ethnic discrimination, through knowing the necessity of the role of women in change and knowledge. She is calling for belief in different values ​​and working together to build community dialogue and enhance human dignity.
It is noteworthy that the World Muslim Communities Council is an international non-governmental organization, headquartered in the UAE capital Abu Dhabi. It is considered a think tank to rationalize organizations and societies working in Muslim societies, renew their thinking and improve their performance in order to achieve one goal; The integration of Muslim societies in their countries, in a way that their members realize the perfection of citizenship and complete affiliation with the Islamic religion. The council seeks, through holding dozens of virtual conferences, seminars and activities, to localize the concepts of religious, ethnic and cultural pluralism, in a manner that preserves human dignity and respect for his beliefs, and establishes the values ​​of moderation, dialogue, tolerance and belonging to the homelands.
Related Topics