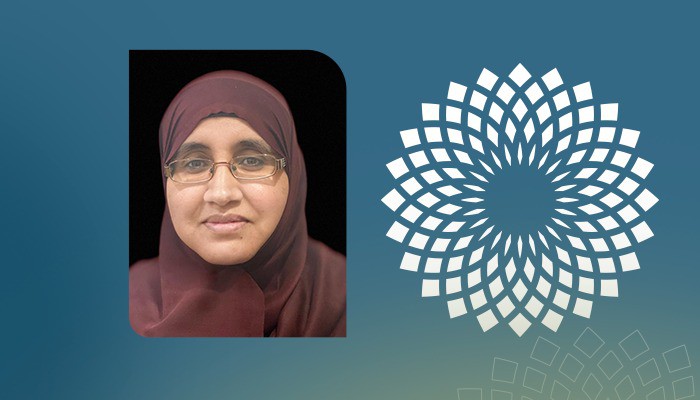 Dr. Fatima Al-Sheikh: Development of Spiritual Values ​​contributes to raising the generation of tomorrow
Among the daily Ramadan Lecturer, The World Muslim Communities Council organized, on Thursday April 22, 2021, a virtual lecture entitled "Development of Spiritual Values ​​for Youth Ramadan", in which Dr. Fatima Al-Sheikh, representative of the African Academy of Human Industry in South Africa, spoke via the Council's social media pages.
Dr. Fatima Al-Sheikh cited the noble prophetic hadith, " It is a month that its beginning is mercy, its middle is forgiveness, and its end is acquittal from hellfire,", confirming that the hadith teaches us the strategic division into three clear stages of worship in Ramadan, calling for the organization of worship and the development of spiritual values ​​among children and youth in order to teach them to plan projects and the art of interconnectedness between goals to plan their lives as shepherds responsible for raising the generation of tomorrow.
She added: "Organizing worship and developing the spiritual values ​​of youth depends on planning the general goal of organizing the relationship with Allah by serious and sincere work to serve the societies and nations. Planning is the basis for the renaissance of nations, so the components and foundations of planning must be applied to instill spiritual values ​​in children and youth".
Dr. Fatima Al-Sheikh pointed out several steps through which spiritual values ​​can be instilled in children and youth, by understanding the characteristics of their thinking and the nature of their growth, teaching them the values ​​of compassion, offering them sincere love, paying attention to their own problems and listening to them, training them in planning skills, compassion and negotiation.
She called also for encouraging children and youth to distribute aid to the needy, teaching them the values ​​of tolerance, forgiveness, and to urging them to use technology and useful video games.
It is noteworthy that the World Muslim Communities Council is an international non-governmental organization, headquartered in the UAE capital Abu Dhabi. It is considered a think tank to rationalize organizations and societies working in Muslim societies, renew their thinking and improve their performance in order to achieve one goal; The integration of Muslim societies in their countries, in a way that their members realize the perfection of citizenship and complete affiliation with the Islamic religion. The council seeks, through holding dozens of virtual conferences, seminars and activities, to localize the concepts of religious, ethnic and cultural pluralism, in a manner that preserves human dignity and respect for his beliefs, and establishes the values ​​of moderation, dialogue, tolerance and belonging to the homelands.
Related Topics