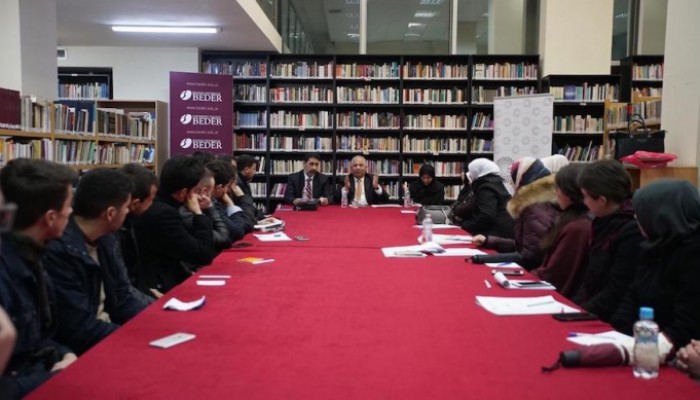 The World Muslim Communities Council is looking into instruments to enhance the role of contemporary women at Badr University in Albania
The World Muslim Communities Council in cooperation with the Badr University in Albania held a training course for a group of Islamic studies students, imams and preachers entitled "Instruments for Enhancing the Role of Women in the Contemporary Society" on Friday (11 January 2019).
Dr. Mohammed Bechari Secretary-General of the World Muslim Communities Council, Dr. Jamal Al-Safrati, Professor at Badr University and a consultant of the Albanian Islamic chiefdom and Dr. Tahra Al-Saadi a member of the General Authority of Islamic Affairs and Endowments in the UAE have participated in the symposium, which was held on the second day of the second International Conference on Islamic Studies ISCON, entitled "The role of Muslim women in the renaissance of Albania - opportunities and challenges" in the Albanian capital city Tirana.
Al-Safrati viewed instruments to enhance the role of contemporary women focusing on the need of self-esteemed of Muslim women in their abilities, their views and their potentials, which have been strengthened by Islam since its first dawn, moreover, he viewed a number of prophetic models that enabled women to strengthen their pioneering role in society.
Dr. Tahira Al-Saadi spoke about the status of women in Islam and the sacred duties entrusted to them, stressing that they should be proud of their belonging to this religion and they should seek to develop their capabilities to serve their country and society.
Dr. Mohammed Bechari elaborated on the means of intellectual advancement that should be pursued by both female and male students. He stressed the need for in-depth research, reflection, meditation and understanding of what critics say and research in a rational, scientific and intellectual manner about the appropriate answers.
The World Muslim Communities Council is based in Abu Dhabi, the capital city of the United Arab Emirates, and has 60 members. Its secretariat consists of 17 members representing Muslim communities in non-Muslim countries around the world.
The Council aims at increasing the role of Muslim societies and their members in the renaissance of their civil, cultural and economic states, as well as to correct the stereotypical image of Islam and Muslim societies.
Related Topics