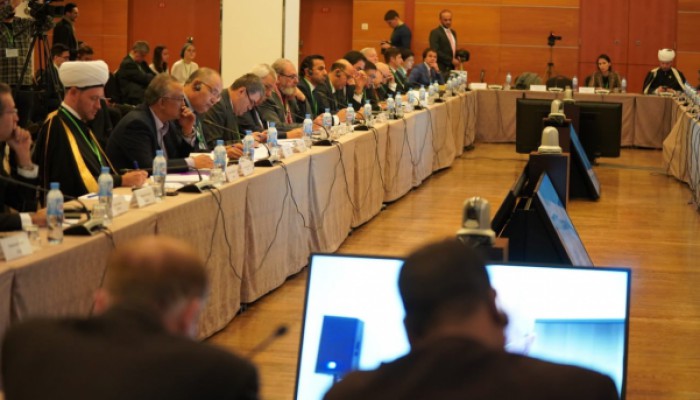 With the participation of delegation from World Muslim Communities Council... Forum "Russia- Muslim World" discusses the impact on public opinion through countering media "falsification"
The Group of Strategic Vision "Russia- Muslim World", held the 5th Forum for Muslim Journalists against Extremism and Terrorism in Saint Petersburg from September 25-27 September, 2019, which was attended by more than 100 journalists and researchers in extremism and terrorism from 40 states around the world in the presence of the World Muslim Communities Council.
The Forum-which was chaired by Dr. Farid Mohamed Shin, discussed important issues of which the the importance of impact on world public opinion and countering media "falsification" and the effect on Muslim Russian Relationships.
In his opening speech, Dr. Farid Mohamed Shein, said that the event is of a paramount importance under the prevalence of fake news and the impact on the relationships, mentioning that Russia has decided to stand by Muslim states and just causes paving the way for the establishment of a new Global Order in international relationships based upon democracy, respect of the rights of nations and countering globalization.
"Time has come to put an end to the movement of some prejudicial media corporates whose news making based upon persostent misinformation to promote and spread violence among nations and their national security, claimed, Dr. Mohamed Bashari, Secretary-General of World Muslim Communities Council.
He also urged international community to enact legislation criminalizing the falsification and promotion of facts and information whether through Satellite channels or media channels or using social media platforms, suggesting "Abu Dhabi Declaration for recrimination of cyber terrorism" which calls upon the international community to adopt a bidding international treaty to recriminate such terrorism, and monitoring states incubating websites promoting extremism ideologies and terrorist messages.
WMCC Secretary-General stressed that there should be distinction between the holiness of freedom of opinion, expression and press and that of individual liberties as well as the right of nations to stability, suggesting the establishment of a "White Book" for online media highlighting the criteria of online posting within the limits of freedom of press and speech and calling for the enactment of a global charter for media validating the essence of the message of media and journalists especially in time of crises.
Related Topics