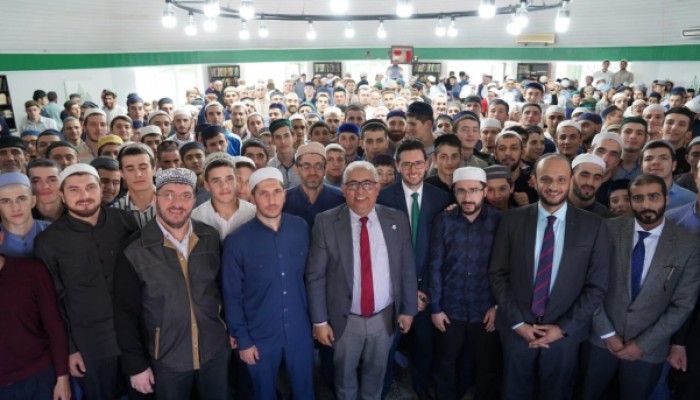 The World Muslim Communities Council visits Human Sciences Institute and Islamic University in Dagestan
Dr. Mohamed Mahmodov Zayer Bek, the Chairman of Higher Institute for Human Sciences of the Republic of Dagestan received Monday a WMCC delegate led by Dr. Mohamed Bachari, Secretary-General of the Council at the university headquarters in Dagestan's capital, Makhachkala, to discuss ways of cooperation between the two institutions and optimize the level of the academic performance of the Institute.

Reception ceremony has been attended by Dr. Abu Bakr Khalonov, Vice-chairman charged with students affairs and curricula at the Institute and Dr. Shihab eddine Hassinov, charged with Foreign Relations at the Institute.

The WMCC delegate has been walked through the achievements made by the Institute in teaching Muslim students in Dagestan natural sciences, human sciences and Sharia Islamic sciences and having their credentials and degrees approved by Russia Ministry of Higher Education.

The two parties have concluded that scientific and academic cooperation should established between them through the support of teaching Arabic for those whose mother tongue is not Arabic in line with the latest advanced methods and approaches and organizing specialized symposiums on Sharia sciences and languages.

The WMCC delegate wrapped its call by a lecture delivered by Dr. Mohamed Bachari for teachers and students of the Higher Institute for Human Sciences- under the theme of "the Jurisprudence of Jurisprudential difference in Countries of Muslim Communities".

It's worth mentioning that more than 1700 students are going to the Institute, who are distributed to five colleges namely: economics, journalism, languages, business administration and Islamic studies.
Dr. Youcef Muslimov, Director of Dagestan Islamic University, has also received WMCC delegate at the University headquarters in Makhachkala who showcased the University's methods, techniques and approaches and the prospects of the University in the Republic of Dagestan.

The two sides have discussed the framework of the institutional, scientific and academic cooperation to promote the values of knowledge based upon adopting reasonable thinking and achieving the interests of individuals through teaching the science of intents of Islamic Sharia by teaching Arabic to non-Arabs according to the state-of-the-art approaches and instilling the culture of peace and tolerance on people.

The WMCC delegate concluded the visit by a lecture given by Dr. Mohamed Bashari for the Institute teachers and students, entitled "Manners and Attitudes students should have".
Related Topics