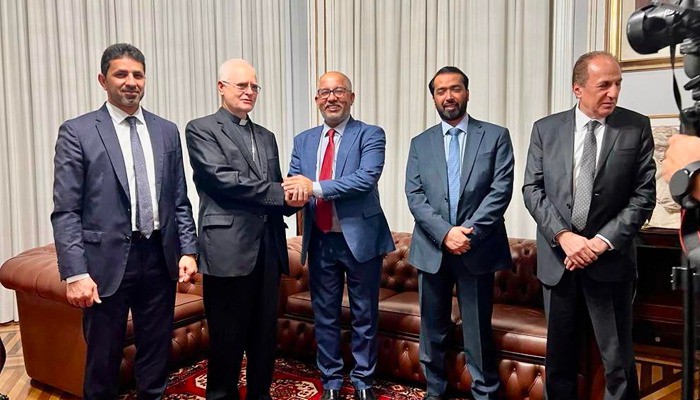 Archbishop of Brazil Receives TWMCC Delegation
Archbishop of Brazil Cardinal Odilo Pedro Scherer received HE Dr Mohamed Bechari, Secretary-General of The World Muslim Communities Council, accompanied by HE Dr Mohammed Al-Obaidli Assitant Secretary-General, Dr Mohamed El Zoghbi, President of the Federation of Islamic Institutions in Brazil, in the presence of HE Ibrahim Salem Al Alawi, UAE Consul General in Brazil, and Mr Rodrigo Goular, First Repentant of the Municipality Sao Paulo.
The two parties discussed ways to utilize the common ground between monotheistic religions in the service of national harmony and the role of religious leaders in the advancement and prosperity of their countries.
The Archbishop of São Paulo also warned against the spread of hatred and racism in contemporary societies, which threatens the security and stability of countries.
HE the Secretary-General of The World Council of Muslim Communities presented the UAE model in managing religious and ethnic pluralism and working for the well-being of its citizens and resident, in addition to launching several initiatives such as the Marrakesh Declaration, the Hilf al-Fudul, and the Human Fraternity Document, in service of the public interest and communication between peoples.
At the end of the meeting, the two sides agreed to continue communication and activate mechanisms to achieve common goals. The two sides also exchanged memorial shields.
Related Topics