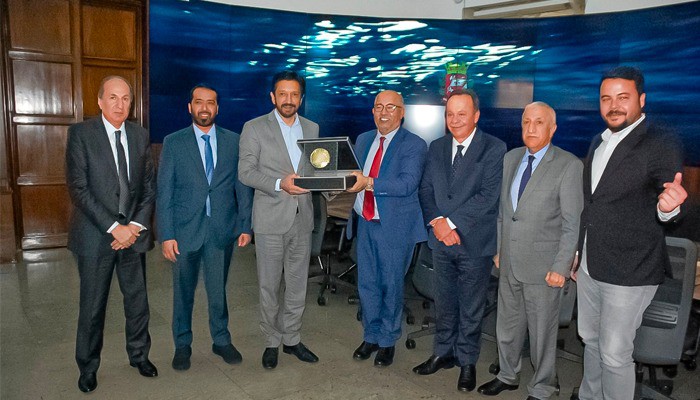 Mayor of São Paulo Receives TWMCC Delegation
HE Mr. Ricardo Nunes, Mayor of São Paulo, Brazil, received HE Dr Mohamed Bechari, Secretary-General of The World Muslim Communities Council, on Tuesday, 17 November.
The two sides discussed managing ethnic, religious, and cultural pluralism in major cities and the role of non-governmental organizations in achieving security and peace in societies.
HE Mr. Nunes lauded the success of the São Paulo city model, which has a population of more than 14 million people of different religions and ethnic origins. The city, per its social policies, had been able to make pluralism a driving force of the national economy and ensure peaceful coexistence with all religious components of different ethnic origins.
On his part, HE Dr Mohamed Bechari conveyed the greetings of HE Dr Ali Rashid Al Nuaimi, Chairman of The World Muslim Communities Council, and his readiness to support successful policies in serving national harmony.
HE Dr Mohamed Bechari also presented the approved programs for peaceful coexistence and tolerance as stated in the Abu Dhabi initiative through the launch of several initiatives, including Human Fraternity, Curiosity Alliance, and the Marrakech Declaration, all of which aim to serve people and nations.
The two sides agreed to work together to achieve common goals.
At the end of the meeting, the two sides exchanged plaques.
The meeting was attended by HE Dr Mohammed Al-Obaidli, Dr. Mohammed Al-Zoghbi, and Dr Ali Al-Zoghbi, along with the Mayor of Brazil accompanying delegation; Rodrigo Goulart, Deputy Mayor of the Municipality; Antonio Goulart; Fabrice Cobra; Rodrigo Madi; and Milton Alves.
Related Topics