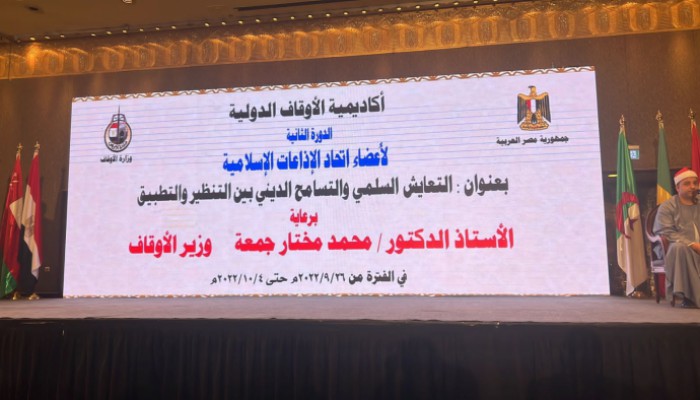 Council Delegation Participates in Second Session of Islamic Broadcasting Union in Cairo*
The delegation of The World Muslim Communities Council, represented by His Excellency Dr. Mohamed Bechari, the Secretary-General, participated in the second session of the members of the Islamic Broadcasting Union of the Organization of Islamic Cooperation, headed by Dr. Amr El-Leithi, under the title "Peaceful Coexistence and Religious Tolerance between Theorizing and Application", under the patronage of His Excellency Dr. Mohamed Mokhtar Gomaa, Egyptian Minister of Endowments.
More than twenty member states of the Union, as well as the representatives of Islamic organizations in the countries that include Muslim communities, will participate in the conference to be held in Cairo, from September 26 to October 4.
For his part, His Excellency the Secretary-General affirmed the Council's keenness to cooperate with professional media institutions in order to improve the image of Islam in the West, and to develop approaches to combating hatred speech, by raising the performance of Islamic institutions, especially in the West, which are concerned with issues of media and advocacy.
Bechari also welcomed cooperation with the Islamic Broadcasting Union, the Arab Broadcasting Union, and the Egyptian Ministry of Awqaf, to achieve common goals.
Related Topics