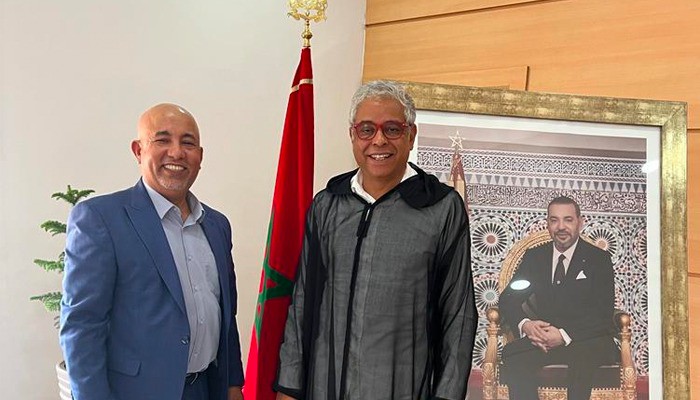 President of Moroccan Mohammed First University Welcomes Secretary-General of The Council*
His Excellency Dr. Yassine Zarhloule, President of the Moroccan Mohammed First University, welcomed His Excellency Dr. Mohamed Bechari, Secretary-General of The World Muslim Communities Council, at the university's headquarters, on Monday, September 5, 2022.
Bechari conveyed the greetings of His Excellency Dr. Ali Rashid Al-Nuaimi, Chairman of the Council, to the University President of, and his congratulations for the achievement of the University on the Moroccan and African levels.
At the beginning of the meeting, the two parties discusse how to enhance joint cooperation in serving Muslim communities, issues of coexistence, national state, citizenship and integration, as well as settling the concepts of religious, ethnic and cultural pluralism, for achieving cooperation and to consolidate the values ​​of moderation, dialogue, tolerance and belonging to nations all around the world.
The two sides also discussed unifying efforts in achieving contemporary jurisprudence within the tolerant Islamic Sharia, in line with the conditions of the people of Muslim communities in the countries in which they live, as well as through seeking to enhance the positive role of Muslims in various parts of the world.
They exchanged commemorative shields at the end of the meeting.
The World Muslim Communities Council is an international non-governmental organization that was established on May 8, 2018 in Abu Dhabi. It includes more than 900 Islamic organizations and institutions from 142 countries. It is a think tank for helping organizations and associations operating in Muslim communities, renewing their thinking, improving their performance, and coordinating it's joint work.
Related Topics