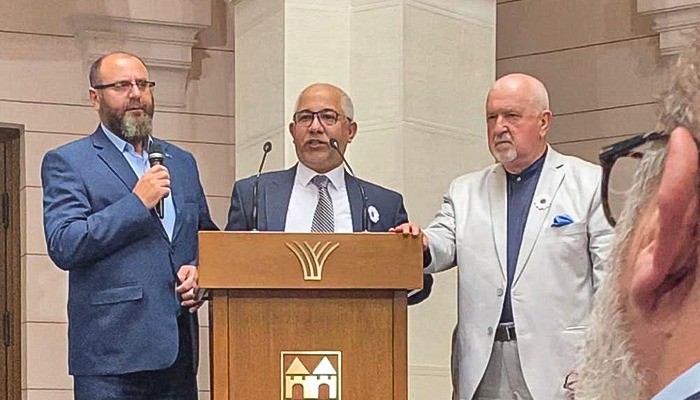 Secretary-General Participates in Constituent Assembly of World Bosniak Congress in Bosnia*
His Excellency Dr. Mohamed Bechari, Secretary-General of The World Muslim Communities Council, participated in the Constituent Assembly of the World Bosniak Congress, in Sarajevo, the capital of Bosniak and Herzegovina, on Saturday, June 25, 2022, at the kind invitation of Dr. Mustafa Cerić, President of the Congress of Bosniaks, and the former Mufti for Bosnia and Herzegovina.
The conference was attended by all 140 members of the Bosniak Congress, who spread over more than 20 countries, in the Balkans, European diaspora, America and Australia.
Dr. Cerić thanked the United Arab Emirates for it's role in spreading the values ​​of tolerance and charitable work around the world, praising the activities of The World Muslim Communities Council among Muslim minorities and communities around the world.
His Excellency Dr. Bechari thanked those in charge of the Bosnian issue, especially Mufti Cerić, and the late Sheikh Muamer Zukorlić, the former Mufti of Serbia and a former member of the Serbian Parliament, for their great service to the Bosniaks, and issues of peace and community security.
The Secretary-General of The World Muslim Communities Council also confirmed the UAE's leading role in translating the values ​​of peace into development and awareness programs that benefit Muslims and non-Muslims, to embody the message of the founding father, Sheikh Zayed, may his soul rest in peace.
Dr. Bechari presented the shield of the Council to His Excellency Dr. Mustafa Serch, on behalf of Dr. Ali Rashid Al-Nuaimi, Chairman of The World Muslim Communities Council and the members of the Council.
The World Muslim Communities Council is an international non-governmental organization that was established on May 8, 2018 in Abu Dhabi. It includes more than 900 Islamic organizations and institutions from 142 countries. It is a think tank for helping organizations and associations operating in Muslim communities, renewing their thinking, improving their performance, and coordinating it's joint work.
Related Topics