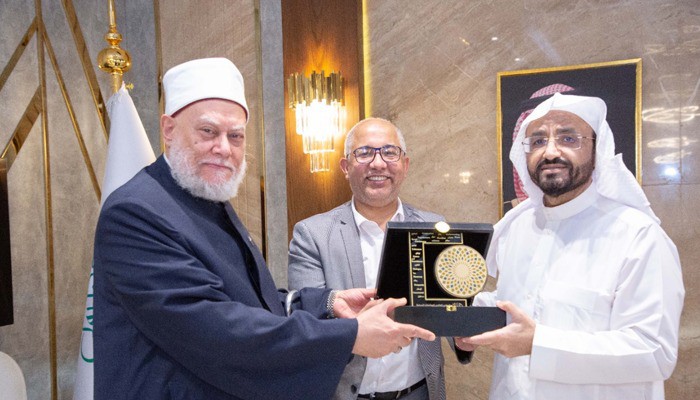 Secretary-General Visits International Exhibition of Prophet's Life and Islamic Civilization*
His Excellency Dr. Mohamed Bechari, Secretary-General of The World Muslim Communities Council, and His Excellency Sheikh Dr. Ali Gomaa, the former Mufti of Egypt, visited the Museum and International Exhibition of the Noble Prophetic Biography and Islamic Civilization in Medina, Kingdom of Saudi Arabia, which is held by the Muslim World League.
They were welcomed by Dr. Nasser Al-Zahrani, Undersecretary of the General Presidency for the affairs of the Grand Mosque and the Prophet's Mosque for intellectual and cultural affairs.
Visitors toured the museum rooms, while Dr. Al-Zahrani provided information about the museum's holdings and exhibition, which is the largest scientific achievement that presents the honorable biography of the Prophet in an elegant manner.
At the end of the visit, Dr. Bechari presented the shield of The World Muslim Communities Council to Dr. Al-Zahrani.
The World Muslim Communities Council is an international non-governmental organization that was established on May 8, 2018 in Abu Dhabi. It includes more than 900 Islamic organizations and institutions from 142 countries. It is a think tank for helping organizations and associations operating in Muslim communities, renewing their thinking, improving their performance, and coordinating it's joint work.
Related Topics