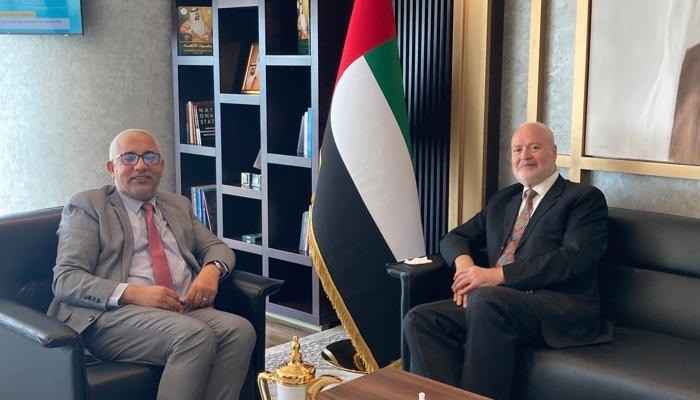 Secretary-General Welcomes Chairman of the Board of Trustees of Meshwar Organization for Community Developme
His Excellency Dr. Mohamed Bechari, Secretary-General of The World Muslim Communities Council, welcomed Dr. Salah El-Din Al-Jaafrawi, Chairman of the Board of Trustees of the Meshwar Organization for Community Development in Egypt, at the Council's headquarters in the UAE capital Abu Dhabi, today, Tuesday, December 14, 2021.
The two parties discussed enhancing joint cooperation to serve Muslim communities, a mechanism for spreading the values ​​of peace, settling the concepts of religious, ethnic and cultural pluralism, in order to achieve cooperation and interdependence for the benefit of nations, and consolidating the values ​​of moderation, dialogue, tolerance and belonging to nations in the whole world.
The two parties also discussed unifying efforts to enhance common points in achieving contemporary jurisprudence within the tolerant Islamic Sharia, in line with the conditions of the people of Muslim communities in the countries in which they live, as well as through seeking to enhance the positive role of Muslims in various parts of the world.
At the end of the meeting, the two sides exchanged memorial shields.
Related Topics