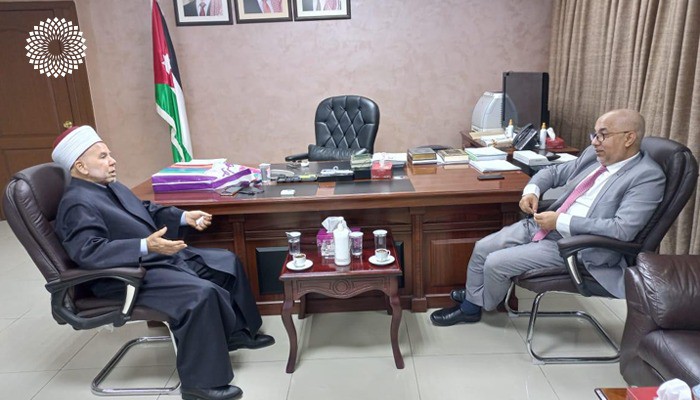 Grand Mufti of Jordan Welcomes Secretary-General of Council
His Honorable Sheikh Abdul Karim Al-Khasawneh, Mufti of the Hashemite Kingdom of Jordan, welcomed on Wednesday June 30th, Dr. Mohamed Bechari, Secretary-General of The World Muslim Communities Council Council.
Al-Khasawneh praised the distinguished and exceptional role of the Council and its Chairman, His Excellency Dr. Ali Rashid Al-Nuaimi, especially during crises such as the Corona pandemic. Sheikh Al-Khasawneh stressed that the proper approach to immunizing Muslim children from extremism and fanaticism is by teaching them moderation and tolerance, pointing that extremism is corrupt idea that lead Muslim nations and societies towards darkness and terrorism. Dr. Mohamed Bechari praised the great role played by the Hashemite Kingdom under the wise leadership of His Majesty King Abdullah in managing global crises, especially those related to the Middle East region, as well as His Majesty's keenness to present a positive image of enlightened Islam. The two parties discussed the role played by the Kingdom's Fatwa Council in guiding Muslims to confront the Corona pandemic. Dr. Bechari also referred to the efforts of the Jordanian Dar Al-Iftaa in spreading the correct knowledge and spread reassurance to the Muslims.

Related Topics