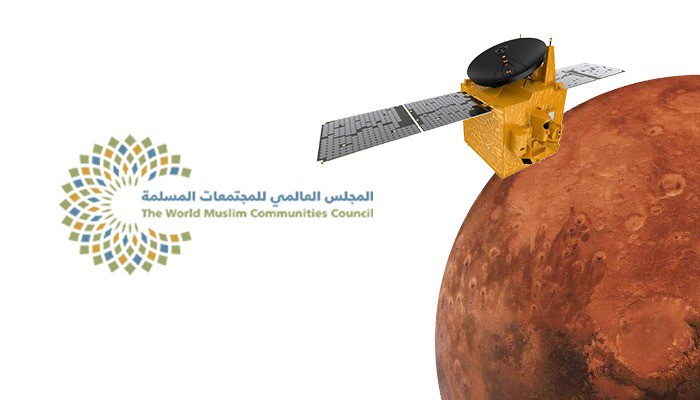 The World Muslim Communities Council Congratulates Success of Emirati "Probe of Hope" Mission to Mars Orbit
The World Muslim Communities Council extends to the leadership and people of the UAE, all Arab and Islamic peoples and all humankind, with its warmest congratulations on the arrival of the first UAE space missions in 2021 to the Mars, and the success of the "Probe of Hope" mission with the entry into its path around the red planet. We ask God Almighty to perpetuate safety and security for the Emirates, and to continue to occupy an advanced scientific position.
The Council affirms that this Emirati space achievement, made by young men and women of the Emirates, is a global achievement that seeks to achieve good and benefit to all humanity, as it establishes self-confidence among Arab and Muslim youth to work together to reach an advanced scientific position and produce scientific solutions to the challenges facing human beings without Distinguish or differentiate.
The arrival of the Hope probe into its orbit makes the United Arab Emirates the first Arab country, and the fifth country globally, to reach Mars, as it will allow the probe to start sending data on the atmosphere and climate. This event will returns the Arab and Islamic nations to their great glories in the field of astronomy and advanced sciences that have always distinguished them, and reinforce the position of Arab and Islamic civilizations among nations.
The World Muslim Communities Council expresses its happiness over this great achievement, and congratulates the wise UAE leadership and the Emirati people for this achievement, which would not have done without the support of this benevolent leadership that follows in the footsteps of the late Sheikh Zayed bin Sultan Al Nahyan.
Related Topics