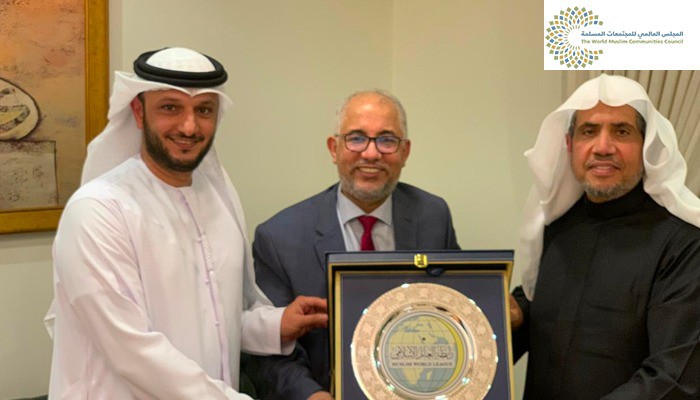 Al-Issa Welcomes Secretary-General of The World Muslim Communities Council in Riyadh
His Excellency Sheikh Dr. Mohamed bin Abdul Karim Al-Issa, Secretary-General of the Muslim World League, welcomed His Excellency Dr. Mohamed Bechari, Secretary-General of The World Muslim Communities Council, at the League's headquarters in Riyadh, Kingdom of Saudi Arabia.
The two parties discussed strengthen and consolidate relations, common issues and future cooperation projects between the League and the Council, as well as spread the values ​​of peace, humanity, fraternity and support for Muslim communities in non-Muslim countries, in a way that serves the march of tolerance and coexistence in the whole world.
Bechari make clear to Issa the council's objectives, especially assimilating the concepts of religious, ethnic and cultural pluralism and respecting privacy in Muslim communities, in a manner that preserves human dignity and respect for belief. Also he conveyed the Council's vision of enabling Muslim communities to positively integrate within their states to achieve articulation between commitment to religion and belonging to homeland.
At the end, the two sides exchanged commemorative shields and affirmed the cooperation in order to achieve common goals for the good of all humanity.
Related Topics