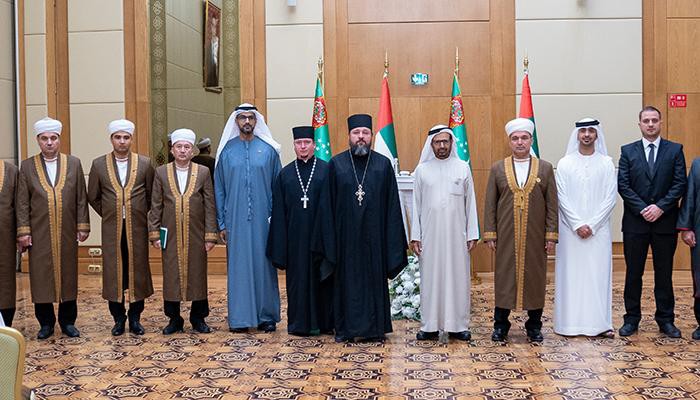 TWMCC Chairman Meets with Mufti of Turkmenistan and Number of Religious Leaders in Ashgabat
HE Dr Ali Rashid Al Nuaimi, Chairman of The World Muslim Communities Council (TWMCC), met with His Honorable Yalkab Khodzhagulyev, the Mufti of the Republic of Turkmenistan, and a number of religious leaders in Turkmenistan's capital, Ashgabat.
During a speech delivered in Turkmenistan, HE Dr Ali Rashid Al Nuaimi said, "We face many challenges that we must address with modern tools that keep pace such challenges," stressing that "the responsibilities of religious leaders currently differ from those carried by their predecessors."
HE added, "All religions came to bring happiness to humanity and carry noble values that preserve human dignity, and religious leaders have a major role in introducing and spreading those values."
HE emphasized "the importance of realizing that pluralism and diversity have become a reality in all societies, and religious leaders must recognize this diversity and coexist with it within the framework of the national state."
HE explained that "the responsibility of religious leaders is to protect young people from having their minds hijacked by terrorist and extremist groups," calling for "preparing and qualifying religious leaders who are aware of their national role in preserving the prosperity and stability of society."
HE Dr Ali Rashid Al Nuaimi, Chairman of TWMCC, held a meeting with His Honorable the Mufti of the Republic of Turkmenistan, and the religious leaders in Turkmenistan. During the meeting, they discussed ways to activate mutual cooperation, and consult on programs to prepare and qualify imams and preachers, in addition to enhancing ways to spread the values of coexistence and confront hate speech and extremism in order to serve humanity.
Related Topics