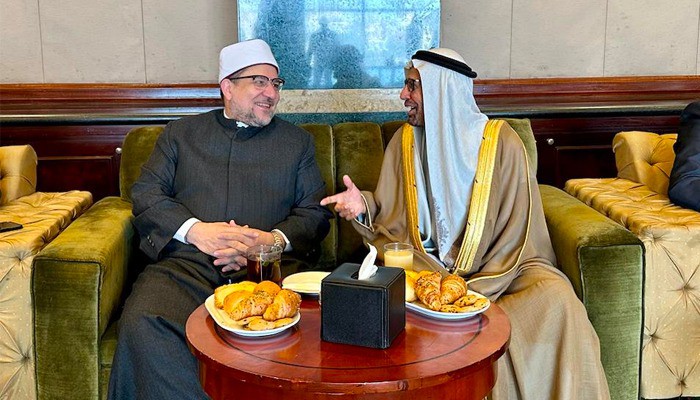 TWMCC Chairman Meets Egyptian Minister of Endowments in Cairo
HE Dr. Ali Rashid Al Nuaimi, Chairman of The World Muslim Communities Council, has met with HE Dr. Mohamed Mokhtar Gomaa, Egyptian Minister of Endowments, in Cairo, Egypt

During the meeting, both sides have discussed ways of enhancing and consolidating relations, mutual issues and future cooperation projects between the Council and the Ministry, as well as promoting the values of peace, tolerance, coexistence, humanity and fraternity, to serve Muslims around the world and all humanity.
Both sides have also discussed ways to formulate scientific, academic and rehabilitation programmes, to confront extremism and isolationism through hard work, to achieve contemporary jurisprudence within the tolerant Islamic Sharia, and in line with Muslim communities' conditions in the countries they live in, as well as seeking to enhance the positive role of Muslims in various places in the world.
TWMCC is an international non-governmental organisation, that was established on 8 May, 2018, in Abu Dhabi. It includes more than 900 Islamic organisations and institutions from 142 countries. It is a think tank for helping organisations and associations operating in Muslim communities, renewing their thinking, improving their performance, and coordinating its joint work.
Related Topics