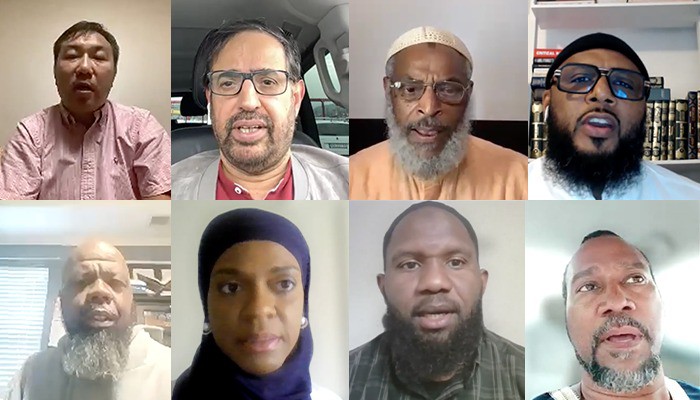 The Council Organizes Virtual Symposium "African American Muslims: History, Identity and Contribution"
On Saturday, August 20, 2022, The World Muslim Communities Council organized a virtual conference "African-American Muslims: History, Identity and Contribution"

A number of personalities participated in the conference, including His Excellency Dr. Ali Rashid Al Nuaimi, Chairman of The World Muslim Communities Council, Imam Nadim Ali, Founding Member & Vice President, Muslim Alliance of North America, USA, Imam Taymullah Abdur-Rahman, Ph.D. candidate in Transformational Leadership at Boston University and author of the upcoming memoir, "American Imam", Massachusetts, Imam Quentin Clay, teacher of social studies, Shelby County Schools, former Imam of Masjid Salaam, Memphis Tennessee, Sister Ameena Starks, Assistant Director at Otis R Bowen Center in Laporte County, Indiana, Mr. Atiba Jones, founder, SAVE Institute, Georgia, and Dr. Mansa Bilal Mark King, Professor of Sociology at Morehouse College, Atlanta, GA.
In the opening speech of the symposium, His Excellency Dr. Ali Rashid Al Nuaimi said that during the era of the Prophet, may God's prayers and peace be upon him, there was a state in Medina ruled by the Messenger and another state in Ethiopia or Abyssinia. He said that our Messenger ordered Muslims to perform the funeral for the King of Abyssinia after his death, because he was an icon of justice, and described him as a king who does not oppress anyone.
Al-Nuaimi added that Muslims all over the world suffer an identity problem, so African American Muslims must realize that they are part of American society, because Islam came to all of humanity.
The Chairman of the Council stressed the need to work to create a better future for African American Muslims, which focus on providing better education for the new generation.
Imam Nadim Ali said that Islam was the most prevalent religion in North America, and that it was a salvation and sanctuary during the period of slavery, noting that African American Muslims suffered from racism, so they worked to support each other.
The founding member and vice-president of the Islamic Alliance of North America stressed that they have been working since the last century to use Islam in spreading justice among all American people, so they have established some institutions to introduce the Islam in the continent.
Imam Taymullah Abdur-Rahman said that African Muslims lived the lives of the Companions. He added that Allah gave us the ability to confront the difficulties of our lives, pointing out that the prophets were exposed to difficulties, so Allah rewards them according to it's degree. He said that the goal of life is to strive, work and then wait for the fruits of this work.
In the same context, Dr. Mansa Bilal Mark King said that most of the African American Muslims came from West Africa, explaining that these countries pay great attention to Islam, which we notice in the educational curricula.
The professor of sociology at Morehouse College added that it is necessary to understand the contributions that African Muslims have made to American society. He explained that music was one of the reasons motivated him to embrace Islam in his youth, noting that African Americans created jazz and hip-hop.
Imam Quentin Clay said that attention should be paid to educating Islam to the American society, to spread Islam and its tolerant teachings, and to confront the racism of the American society.
Clay added that they provide social services to Muslims in the city of Memphis, calling on his colleagues to participate financially to expand those activities.
Sister Ameena Starks emphasized their ongoing work for rights. She added that although her mother is of Christian origin, she learned the rituals of Islam as a child from watching her grandfather and grandmother.
Starks stressed that they focus on providing social activities for Muslims of African descent, confirmed the need to follow the Sunnah of the Prophet and help others, noting that Islam gives us peace and energy that helps us live.
At the end of the conference, Mr. Atiba Jones said that Muslims of African descent have been under great pressure to renounce their faith, and it is wonderful to see Islam making a strong comeback despite all that. He stressed that the great spread of Islam among Africans is a kind of miracle.
Jones added that the "Save" Institute was established several years ago, and it is not exclusive to Muslims, but rather works to combat racism and highlight the role of Islam in American society.
The World Muslim Communities Council is an international non-governmental organization that was established on May 8, 2018 in Abu Dhabi. It includes more than 900 Islamic organizations and institutions from 142 countries. It is a think tank for helping organizations and associations operating in Muslim communities, renewing their thinking, improving their performance, and coordinating it's joint work.
Related Topics