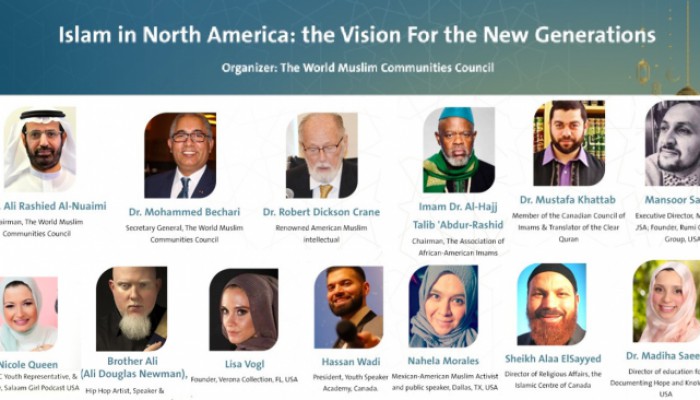 Islam in North America: Vision For New Generation
The World Muslim Communities Council organized, on Thursday 24 Ramadan 1442 AH / May 6, 2021 AD, a virtual conference entitled "Islam in North America: Vision For New Generations", with the participation of religious leaders, academics, researchers, spe
The importance of the conference that ut comes under a new American administration, in parallel with the escalation of the crisis of the new Muslim generations in their communities, with the importance of the participation of religions in dealing with health disasters and pandemics, to create a common ground and joint action, to activate the image of Islam, building a generation more able to relate to its religion and values.
The conference answers many questions related to the conditions and developments that the new generations of Muslims are witnessing in North America, in addition to the role of religious institutions and leaders in spreading Islam and its culture among the new generations by upholding the values ​​of tolerance and love, as North America has a large Muslim immigrants.
In his opening speech, His Excellency Dr. Ali Rashid Al-Nuaimi, Chairman of The World Muslim Communities Council indicated that the current period is witnessing many challenges to the Muslims, especially the new generations in North America. Perhaps one of the main reasons behind the crisis of Muslim immigrants in North America is due to the fact that some of them took their problems with them.
His continued, "Muslim immigrants should focus on local challenges", stressing that leaders in Muslim communities have a wide responsibility, so they must consider appropriate fatwas. He said that Muslim communities in North America should pay attention to the youth and search for fatwas that suit the needs of their people
Imam Dr. Al-Hajj Talib Abdur Rashid, President of the African American Imams Association, noted that one of the problems of modern life that depends on technological development is that it deprived new generations of Muslim youth in North America from realizing and understanding the true meanings of their religion, as they derive their knowledge from the virtual world, and the Internet. He pointed out that categories such as family, society and values ​​have different meanings for the new generation, whose challenges has become how to be a believer in the twenty-first century in light of the rise of globalization. He added that it is necessary to reformulate a new vision of the religious discourse of the youth in this diverse society.
Sheikh Alaa ElSayyed, Director of Religious Affairs, Islamic Center of Canada, said that identity is the solid heart that guarantees our presence as Muslims in our communities, as every Muslim youth must adhere to the values ​​of his religion and behavior. He added that integrating our communities in North America should not affect our Islamic identity.
Hassan Wadi, President of the Youth Speakers Academy, Canada, said "We have to balance our lives in this world and hearafter, as Muslim youth in North America should be aware of the importance of religion and be keen on its elevation.
Nahela Morales, a Mexican-American Muslim activist, said that the events of September 11 were an important shift that contributed to her discovering to Islam and Islamic institutions in North America that play an important role in supporting the image of Islam and Muslims. She added, "Allah Almighty chooses us for Islam and guides us to His religion, which brings psychological comfort, mental health, peace and tranquility."
In a related context, Dr. Mustafa Khattab, a member of the Canadian Council of Imams and translator of the Holy Quran, said that the Canadian Council plays a prominent role in the field of advocacy among non-Muslims, and was able to provide these young people who question Islam a lot of knowledge and facts about Islam, which is the matter that He contributed to the introduction of a wide spectrum of them to Islam. He added that most of the new Muslims we are helping are young people. He added that we in the Canadian Council are closely following these young people, especially since they entered Islam out of conviction after our noble religion offered them peace and tranquility.
Dr. Madiha Saeed, Director of Education at Documenting Hope and KnoWEwell, said that the teachings of Islam contain psychological, mental and spiritual health, which is the impregnable fortress that saved me from all illnesses."
On the other hand, Mansoor Sakhiy, Executive Director, MuslimAid, USA, pointed out that charitable organizations in North America, which were founded by Muslim immigrants as much as their role in spreading the teachings of Islam, but suffer problems, which is the lack of communication with young people who should have active role in managing charitable institutions. He added that the method of collecting donations in charitable institutions in North America also needs to be restructured and not limited to traditional means, so it is necessary to invest and employ modern technology in communicating with all people and institutions in the Islamic world that know the role of Islamic charities in the West.
On his part, Professor Ali Douglas Newman, a hip-hop artist, a community leader, Minnesota, USA, said that despite the importance of diversity in our communities, identity remains the most prominent factor that guarantees the preservation of our existence and our future. He added that engaging with people who are similar to us in culture, values, teachings and principles guarantees a happy life.
Lisa Vogl, founder of Verona Collection, Florida, USA, said that the brand "Verona" was important to us, as it turned into a title for the new Muslims. She added that the brand aims mainly to develop a Muslim woman's feeling of being proud of her religion, proud of her clothes that are in line with her Islamic beliefs and principles. She indicated that the "Verona" is a message that we express our religion to non-Muslims.
In his closing notes, Dr. Mohamed Bechari, Secretary-General of The World Muslim Communities Council, emphasized that all the participants in the conference were keen to maximize the Sharia of Allah and comply with the commands of this great religion. "We have to cultivate in our children a love for this religion, and be keen to implement its orders. The most important duty is to promote institutional work to spreading the call to Islam," he added.
He continued that there is no contradiction between belonging to religion and belonging to the homeland, just as Muslim immigrants in Muslim communities must transform their stories with Islam into practical programs that correct the image and principles of Islam, especially since Islam is a religion of spirituality, tolerance and mercy. He concluded his speech by asking Allah to take away adversity and to spread goodness to all humankind.
It is noteworthy that the World Muslim Communities Council is an international non-governmental organization, headquartered in the UAE capital Abu Dhabi. It is considered a think tank to rationalize organizations and societies working in Muslim societies, renew their thinking and improve their performance in order to achieve one goal; The integration of Muslim societies in their countries, in a way that their members realize the perfection of citizenship and complete affiliation with the Islamic religion. The council seeks, through holding dozens of virtual conferences, seminars and activities, to localize the concepts of religious, ethnic and cultural pluralism, in a manner that preserves human dignity and respect for his beliefs, and establishes the values ​​of moderation, dialogue, tolerance and belonging to the homelands.
Related Topics