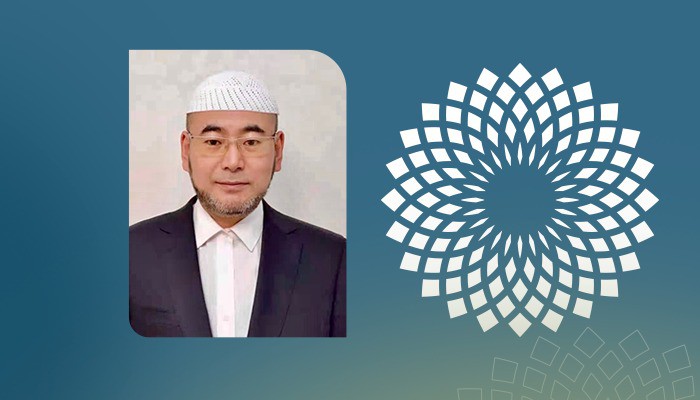 Virtual Ramadan lecture "Importance of God's Love in Life of Muslims"
Among the daily virtual Ramadan lectures, The World Muslim Communities Council organized, on Wednesday April 14, 202, a virtual lecture entitled "Importance of God's Love in Life of Muslims", in which Imam Ma Guangyue, Vice President of the Islamic Association of Gansu Province, and Imam of the Dahejia Grand Mosque in Gansy, China, spoke vua the Council's social media pages.
Imam Ma Guangyue said that the Creator's love for a creature means our protection and success for what Allah Almighty loves and pleases, while the love of the creature for the Creator means obedience to Him Almighty, obeying His commands and avoiding His prohibitions. He is affirming that the result of our worship is the love of the Creator and His Messenger, as Allah didn't need our worship but we did.
He added, "If we know Allah Almighty, we love him, and if we read the Qur'an, we will find ample evidence that Allah loves us very much."
Imam Ma Guangyue explained that Allah created the universe for all of us to know the Creator and increase love for him, just as the Creator did not burden us with the responsibilities of religion, but rather gives us with great rewards in exchange for easy duties. Our Sharia promotes safety, peace, coexistence and family and community values ​​and morals.
He affirmed that Allah has commanded us to repent and seek forgiveness. He is calling on the imams and religious leaders to increase the temptation, not the intimidation, noting that loving Allah means piety, consolidation of friendship and fraternity, righteousness of parents and the appreciation of creatures, but this love needs actual application in transactions, sayings with each others.
Imam Ma Guangyue also speaking about "Human Fraternity" document, which was signed in the UAE capital Abu Dhabi, stressing that it is a prominent example of loving Allah on the one hand, and loving each other on the other hand.
It is noteworthy that the World Muslim Communities Council is an international non-governmental organization, headquartered in the UAE capital Abu Dhabi. It is considered a think tank to rationalize organizations and societies working in Muslim societies, renew their thinking and improve their performance in order to achieve one goal; The integration of Muslim societies in their countries, in a way that their members realize the perfection of citizenship and complete affiliation with the Islamic religion. The council seeks, through holding dozens of virtual conferences, seminars and activities, to localize the concepts of religious, ethnic and cultural pluralism, in a manner that preserves human dignity and respect for his beliefs, and establishes the values ​​of moderation, dialogue, tolerance and belonging to the homelands.