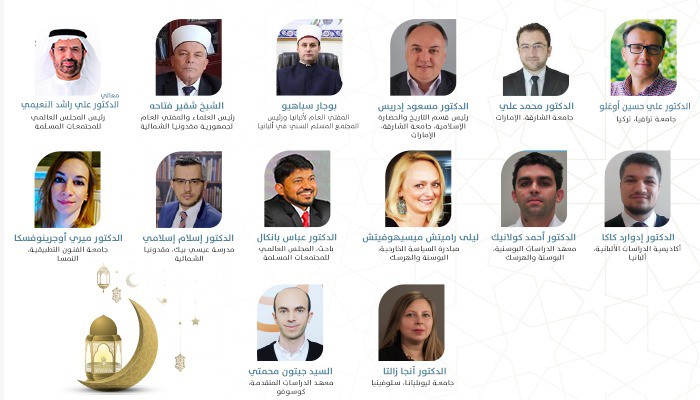 Virtual conference "Muslims in Southeast Europe.. History, Indigenization and New Communities"
The World Muslim Communities Council organized, on Saturday April 17th, 2021, a virtual conference entitled "Muslims in Southeast Europe: History, Indigenization and New Communities", with the participation of religious leaders, academics, researchers and specialists, via the Council's social media pages.
In his opening speech, His Excellency Dr. Ali Rashid Al-Nuaimi, Chairman of The World Muslim Communities Council, said that despite the challenges facing Muslims, they have many opportunities. He is stressing that Muslims are proud of their history, so our era needs to learn from the Muslims.
His added: "Islam is a welcoming religion, so no country can reject Muslims, as 600 million Muslims live outside Islamic countries, including southeastern Europe. Our religion opens horizons for communication with other components, as it is a religion of love and peace, which add beautiful values to society."
He explained that Muslims should interact with others, maintain security and independence, and ensure the prosperity and happiness of their communities by working together with all members of society, confirming that Muslims facing many challenges related to identity, but they are part of a wider community, and seek to show the bright side about their religion. He is stressing the need for Muslims to coexist with their new countries, seeking integration and loyalty to it, what does not contradict with the Islam. He is calling on Muslims not to listen to the voices that come from outside their societies, which know nothing about their challenges, however trying to impose fatwas that do not suit their circumstances.
Sheikh Shaqir Fetahu, Head of Scholars and Grand Mufti of the Republic of North Macedonia, said that Islam has provided a lot to the peoples of the Balkans in ethical, cultural, economic and scientific fields, by promoting the values of tolerance and coexistence between different religions and communities, as well as consolidating societal and ideological diversity since 6 centuries of the history of religious.
"The new communities should be an effective model for promoting diversity and interaction in the whole world. Corona pandemic showed us the inevitability of coexistence and peaceful life between all people without discrimination, so we seek to consolidate a renewed human thought, civilized awareness, unify values and spiritual principles on the paths of enlightenment," added Fetahu.
The sessions of the conference were launched with the presentation of Dr. Mesut Idriz, Chair of the Department of History and Islamic Civilization, University of Sharjah, United Arab Emirates, and Dr. Abbas Panakkal, Researcher at The World Muslim Communities Council.
Dr. Mohamed Ali, Macedonian researcher, professor at the University of Sharjah, UAE, referred to educational curricula in the Balkans that include Islamic education, developing democratic values, and promoting religious and Islamic values in society. He is stressing that the Islamic education is a clear system that is considered the best of Its type, as it is taught in schools, colleges, mosques, etc. He added that Islamic education in Southeast Europe is considered a good model for religious education in the European continent, where religious education in the Balkans plays an important role in reducing and mitigating conflict and promoting peace.
Dr. Ali Huseyinoglu, Greek researcher and professor at Trakya University in Turkey, explained that the history of Islam in Greece dates back more than 600 years, and it is very important to highlight the efforts of coexistence and tolerance between religions in the country, as the relations between Muslims and Christians in Greece stand on the basis of love, harmony and mutual understanding. He is stressing that in Greece, church bells harmonize with the sound of adhan in a beautiful picture reflects the extent of familiarity and harmony in society, as the integration of Muslims in Greece is very important and Muslims did not suffer problems, whether they are original Muslims or newcomers.
Dr. Meri Ugrinovska, University of Applied Arts in Austria, said that tolerance and peaceful religious coexistence is a foregone conclusion in the Balkans and has an authentic history since centuries. She said that the Islamic historical heritage reflects the strength of Islamic arts and the extent of coexistence and integration in the Balkans, explaining that Islamic architecture is part of the Islamic civilization in the Balkans that depends on beautiful artistic and creative works, and that Islamic arts or Islamic symbols in architecture reflect the interpretation of artistic values in a way that enhances the civilization of Islam.
Dr. Islam Islami, Isa Beg Madrasa in the Republic of North Macedonia, affirmed that all religions call for respecting human rights, achieving equality between human beings, rejecting racial discrimination, and achieving freedom for all. He said that the religious tolerance means promoting the values of dialogue in multiple communities, coexistence between followers of religions and mutual recognition of rights, explaining that religions seek to consolidate cooperation between members of society and promote coexistence among all without discrimination. "Islam and Christian in Macedonia seek to search for commonalities in humanity to build bridges of love and relationships to serve society and the nation," he added.
Meanwhile, Sheikh Bugar Spahiu, the Grand Mufti of Albania and Chairman of the Sunni Muslim community in Albania, speak about the Islamic presence in Albania, which dates back many centuries, despite the fact that Muslims faced many challenges that threatened Islamic values and identity. He is stressing that the Islamic Community is the official institution that represents the Muslims of Albania. It has contributed to linking Muslims to their religion and belonging to their country, affirming that the Community strengthens the religious spirit and preserves human dignity, rights and interests of Muslims, and establishes love, loyalty and pride for the homeland. "Sunni Muslim community promotes interfaith dialogue in Albania, made it a model country and for religious coexistence for centuries," Spahiu calling to qualify generations with knowledge of faith in order to serve religion and the homeland in the spirit of coexistence and human and civilized dialogue.
Ms. Lejla Ramic-Mesihovic, the foreign policy initiative in Bosnia and Herzegovina, said that Muslim communities in Yugoslavia and the countries of southeastern Europe are full of life, multi-ethnic and live with different historical groups, with historical facts confirm that Muslims live in societal harmony and peaceful coexistence with others. She is explaining that tthe roles of Muslims fluctuate in their importance, roles and challenges, but the integration, coexistence and social cohesion, as the religious institutions in our countries operate in different institutional frameworks, and it is important to know the extent of Muslim interaction and the study of Islamic history.
In her speech,0 Dr. Ahmed Kulanic, Institute for Bosnian Studies in Bosnia and Herzegovina, pointed out that peaceful coexistence and religious tolerance in Bosnia and Herzegovina extends to six centuries of wars and challenges, but that these periods were characterized by societal peace and good neighborliness, and that the issue of identity was one of the most prominent issues facing Muslims in Bosnia and Herzegovina. He is calling for knowledge of the truth about religious compatibility in Bosnia and Herzegovina and its connection with religious coexistence in the country.
Dr. Eduart Caka, the Academy of Albanian Studies, praised Albania as a model of religious coexistence, as there are five religions and about 230 religious institutions operating in the country. He said that Albania is enjoying societal harmony between all religions and beliefs since ancient times, and the country is characterized by cultural and historical importance, explaining that European seen Albania is a good example of religious coexistence, as the Albanians are the only European nation with an Islamic majority, with kinship relations that focus on human commonalities not differences, which establishes strong societal and religious coexistence.
Mr. Jeton Mehmeti, the Institute for Advanced Studies in Kosovo, said that dialogue, harmony and coexistence between the various components was affected by a period of wars and conflicts in the history of Kosovo, which affected society as a whole. He said that community coexistence requires dialogue, understanding and agreement on common foundations, to strengthen the efforts of the international community in establishing pillars of peace and harmony, as society played a vital role in Kosovo in promoting coexistence between different religions.He is. calling for consideration of the official and legal role, role of clerics, religious parties, educational bodies, and the media in promoting religious coexistence.
Dr. Anja Zalta, University of Ljubljana in Slovenia, said that the Constitution of Slovenia focuses on communities and clarifying relations within the Islamic community in order to consolidate religious coexistence in the country, stressing that this dynamic work highlights the position of the Islamic religion in Slovenia as well as the knowledge of the historical context of Islam. She is confirming the lack of a complete understanding of the Islam that full of negative stereotypes about Islam among the most prominent challenges facing Muslims, especially with the scarcity of writings on Muslims in Slovenia, and studis about the consequences of the occupations and invasions, and knowledge of the legal personality of religious institutions.
It is noteworthy that the World Muslim Communities Council is an international non-governmental organization, headquartered in the UAE capital Abu Dhabi. It is considered a think tank to rationalize organizations and societies working in Muslim societies, renew their thinking and improve their performance in order to achieve one goal; The integration of Muslim societies in their countries, in a way that their members realize the perfection of citizenship and complete affiliation with the Islamic religion. The council seeks, through holding dozens of virtual conferences, seminars and activities, to localize the concepts of religious, ethnic and cultural pluralism, in a manner that preserves human dignity and respect for his beliefs, and establishes the values of moderation, dialogue, tolerance and belonging to the homelands.