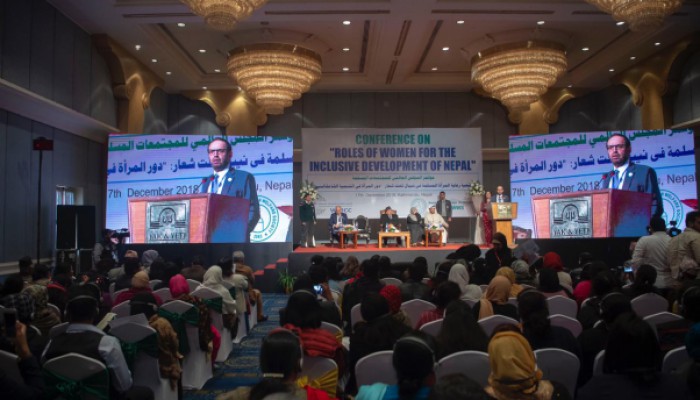 The Conference "Strengthening the Role of Women in Comprehensive Development Conference" - Nepal
"Strengthening the Role of Women in the Comprehensive Development conference of the Republic of Nepal", has been organized by the World Muslim Communities Council, was launched on 17 Dec 2019 in cooperation with the Assembly for the Care of Muslim Women in Nepal.
The Vice President of the Nepalese Republic, Nadna Kishor Pun, said in his keynote speech at the conference that Multiculturalism in Nepal is a part of the excellence of our community experience and Muslim communities are making significant contributions to the overall development of the country.
Pun added that a Nepalese Muslim woman has a prominent role in issues related to the present and future in our country, stressing that the Constitution of Nepal granted women more rights and freedoms and they have a significant share of leadership positions.
HE Dr. Ali Rashid Al Nuaimi, Head of the World Muslim Communities council said that The UAE has provided a pioneering experience in promoting and empowering women in various fields and clarified that multiculturalism in the UAE is a source of social strength.
Al Nuaimi added that the UAE is home to over than 200,000 Nepalese people who are participating in the development process in the country, stressing that our mission is to strengthen the role of women in the world and enable them to achieve sustainable development.
270 figuers, including ministers in Nepal's government and parliament, as well as UN human rights figures and others have participated in the conference, that hosted in the capital city of Nepal, Kathmandu.