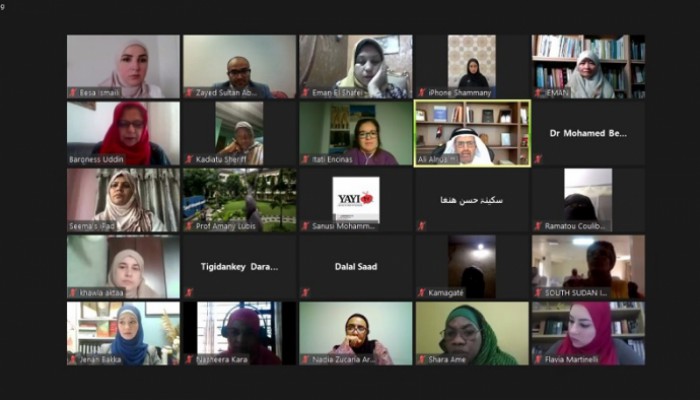 Virtual Conference "Role of Women in Muslim Communities in the Times of Crisis"
The World Muslim Communities Council organized its first virtual conference for women entitled "Role of Women in Muslim Communities in the Times of Crisis", on Saturday, July 4th, 2020, with the participation of more than 250 representatives from 70 countries.
The conference, which brought together women active in Muslim societies, including academies, researchers, and Islamic feminist organizations, sought to achieve several goals, including emphasizing the role of Muslim women in assuming societal responsibility alongside men, and developing appropriate strategies for each country that works to coordinate between the relevant institutions in all areas of life of Muslim societies, especially those concerned with women and youth issues.
The discussion in the conference revolved around three sessions. The first session was entitled "Initiatives to Confront the Effects of Crises," the second: "Contribution of Muslim Women in the Educational Process," while the third examined "Contribution of Muslim Women to Establishing Coexistence". The Conference foucus on the desired role of Muslim women in times of crisis, confronting currents of hatred and racism, dialogue between religions and civilizations, "school education remotely for children": its problems and methods, relief and humanitarian work and the health sector, and how to contribute in spreading awareness of the seriousness of pandemic outbreaks, initiatives and projects, as well as preparing community leaders to embody national cohesion in the face of crises.
The importance of the conference comes from looking at the crises and wars that humanity has gone through, some of which have left millions of victims, between dead and sick. We are also witnessing the outbreak of COVID-19 in all countries of the world, and the death and destruction that it caused. Believing in the importance of the women role in dealing with the effects of these crises besides her male brother, states, governments and organizations have sought to activate this role so that peace, security and stability prevail in the world. Proceeding from the World Muslim Communities Council goals, especially those related to activating the role of Muslim women in Muslim societies, which states "the rehabilitation of families, women, youth and children in the citizenship education, to be pride in their national, cultural and religious identity, and contribute to the development of their societies".
His Excellency Dr. Ali Rashid Al-Nuaimi, Chairman of the World Muslim Communities Council, said in his opening speech, it is not possible to overcome any crisis without women having an active, fundamental and strategic role, because women have involved in facing the pandemic, especially that most workers in the medical services are women. Al-Nuaimi has stressed that women in all sectors must have a role, and we have to appreciate this role, which is in some locations better than the role of men, said that Muslim women can serve humanity, society and religion in a distinct manner.
He added that women open horizons for dealing with crises and offer solutions that may not found among men, pointing to the importance of knowing that each country has its own situations and specificities, and that our message is that Muslim women are distinguished, pioneering, leader, not dependent.
Dr. Mohamad Bachari, Secretary-General of the World Muslim Communities Council, said that women have choose to preserving humanity, and there is no opportunity to exclude women from decision-making and innovation partnerships under all circumstances, stressing that Muslim women are a generous achievement that corrects what the Corona pandemic has corrupted, as it is a beacon for the sake of establishing coexistence and a first line of defense in addressing global challenges. He is explaining that the World Muslim Communities Council values ​​the role of Muslim women during crises, because Muslim women are a gift to an entire community, a basic and effective partner for achieving the renaissance of societies and states and their stability.
Her Excellency Baroness Manzila Pola Uddin, Member of Parliament in the House of Lords, United Kingdom, thanked the World Muslim Communities Council for its insight into choosing these important themes in the effective conference. She is stressing that the Corona pandemic is a global threat to our health, our well-being and our education, and we need to stand against it to improve societies, noting the women's efforts to gain over 100 million pounds of charity in Britain, making the difference in women's education.
In her speech, Her Excellency Dr. Pisa Ismaili, a member of Parliament in Kosovo, pointed out the importance of the role of women in times of crisis, calling for reducing inequality and promoting community participation and paying attention to education, and understanding each other. She is pointing out the need to achieve equality between all parties and share our concerns on the same ground, as well as appreciation of collective action and activation of female leadership, stressing this is a source of concern for families who cannot succeed and advance without men.
His Excellency Shamma Al Dhaheri, a member of the Emirates Legal Fatwa Council, Director of the Fatwa Department of the General Authority for Islamic Affairs and Endowments in the UAE, spoke about Emirati women who live under a wise leadership that has empowered them since the establishment of the Emirates Union at the hands of Sheikh Zayed bin Sultan Al Nahyan, confirming that the trust that the wise leadership has placed on Emirati women has been reflected on the ground, as it is clear to everyone the role of Emirati women in facing Corona, as well as the preventive measures taken by the government in this regard, through the activation of the system of remote work, distance education, free healthcare for women, and others. All these are women initiatives in facing the pandemic, which won the praise of the human rights organization. She is confirming that the woman stood with the man on the front lines, as she is the mother, teacher, nurse, doctor and volunteer, and her role was associated with sacrifices, giving and dedication.
Her Excellency Mahla Ahmed Talabna, Director of Cultural, Social and Family Affairs at the Islamic Cooperation Organization in the Kingdom of Saudi Arabia, said that Our religion commanded us to respect women, and approved its political, economic, social, religious and legal rights, which we can saw in the Islamic history, calling for looking at the role of women in social development, especially in times of crisis, as concern has grown on the role of women in Islamic countries by strengthening laws, advancing women and protecting them from violence. She affirmed that women are an inherent partner in managing state affairs, policy development, decision-making and social responsibility, while adhering to family values ​​that help them withstand challenges, as the family is the heart of the Muslim community .
After extensive discussions which including (60) scientific papers, the conferences recommended the following:
First: Building a global platform for Muslim women affiliated with the World Muslim Communities Council, to concern with networking women's collective activities.
Second: The exchange of successful experiences in various countries.
Third: Launching a set of cultural and social initiatives aimed at raising the concerns of women leaders and institutions in Muslim societies.
Fourth: Launching a program for preparing women's youth leaderships to confront humanitarian crises and natural disasters.
Fifth: Emphasis on activating the leadership role of Muslim women, by involving them in making the future of their societies.
It is noteworthy that the World Muslim Communities Council is an international non-governmental organization, headquartered in the UAE capital Abu Dhabi. It is considered a think tank to rationalize organizations and societies working in Muslim societies, renew their thinking and improve their performance in order to achieve one goal; the integration of Muslim societies in their countries, in a way that their members realize the perfection of citizenship and complete affiliation with the Islamic religion.